ZOOM Business Forum series: Zoom Breakout Rooms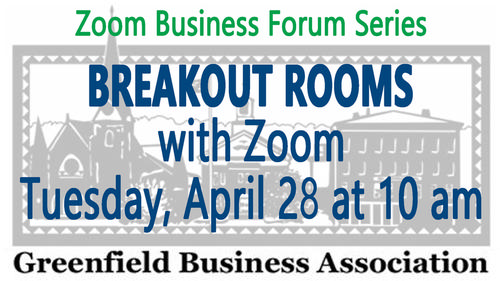 Tuesday, April 28, 2020, 10:00 am until 11:00 am
Zoom!
Join the GBA and other local businesses for one of our ZOOM Business Forum series: Zoom Breakout Rooms
As social distancing and stay-at-home orders came to our Greenfield community due to the COVID-19 pandemic, many in-person meetings quickly changed to virtual meetings using various online platforms. Zoom's simple functioning and low-cost (free without membership) helped it become the go-to platform for many meetings. Recognizing the need for an introductory training to use Zoom more effectively, the GBA developed this business-to-business skill share.
What's a Zoom Breakout Room?
They are sub-rooms that can be created within a meeting or training session. They are useful for splitting a large group into smaller groups that can talk or collaborate.
Jeremy Goldsher, Co-owner of Greenspace CoWork, will demonstrate Zoom's Breakout Room feature to help you learn how to use them in large or small video conferences.
Skills shared:
Breakout Room system requirements;

enabling the Breakout Room feature;

programming the number of Breakout Rooms needed;

how to assign meeting participants to a room; and

Breakout Room meeting management.
Prerequisite: Ability to log-in to Zoom via website or application. Suggested: Watch Jeremy's Basic Zoom forum from April 21: https://www.youtube.com/watch?v=kejoUEw2LuA
This forum is open to all but is geared towards Greenfield business owners (GBA membership is not required).
To register and receive the Zoom invitation, please email the GBA at: gba.4greenfield@gmail.com.
This meeting is sponsored by the Greenfield Business Association.
Posted to: Community Events