'Tis the Season of Generosity
Dollar-to-dollar, your donation can help twice a many Greenfield businesses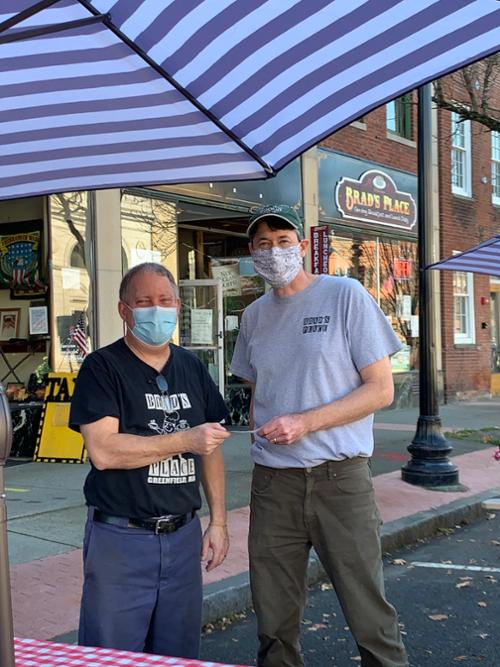 Dan Devine of Brad's Place accepts a mini-grant check from Bill Baker of the GBA
'Tis the season to express one's generous spirit with supportive philanthropy. Many of us are receiving mailings and requests from organizations looking to fulfill their missions through end of year donations--and there are a lot of needy and worthwhile organizations vying for those philanthropic dollars.
The Greenfield Business Association is a membership driven organization, and with many of our local businesses facing challenging times, our membership dues are down. Anticipating the downturn, yet still wanting to be a vital resource to our community businesses, we applied to and received funding from MassDevelopment to help Greenfield businesses reopen outside. That first $10,000 has gone to help several of our family, friends, and neighbors continue their businesses outside this fall.
We still have a few businesses awaiting awards, but need more funding to help them. Fortunately, the Mass Development and GBA have partnered in a fundraising match: dollar-for-dollar MassDevelopment will match any donations to the GBA through Dec 15 up to $5,000.
Some may wonder what businesses can do outside this time of year. Well, there's a big chance indoor COVID restrictions will continue into 2021 and outside facilities will still be needed by many businesses this spring. The equipment purchased through this opportunity is owned by the awarded business and can be used at any time in the future. Looking ahead, your donations can help businesses brave enough to continue outside through the colder months and ones doing all they can to stay open or reopen again outside in the spring.
With a dollar-to-dollar match, your end of year donation can be spread twice as far and help our community twice as much.
Please consider making a donation to our crowdfunding platform this #givingtuesday2020 and until December 15th. Bring double your investment into our city — your family, friends and neighbors' businesses. In order to help, we need to gather these funds and grant the awards to the businesses, now.
Please go to www.patronicity.com/greenfield and donate today. Dollar-for-dollar, this is a win-win situation for Greenfield.
Take a look at the Greenfield businesses we helped this fall: https://youtu.be/NA2933YU4YU.
Posted: to GBA News on Mon, Nov 30, 2020
Updated: Mon, Nov 30, 2020