Downtown Trick-or-Treat Postponed
Downtown Greenfield Halloween Celebrations Moved to Sunday 10/31!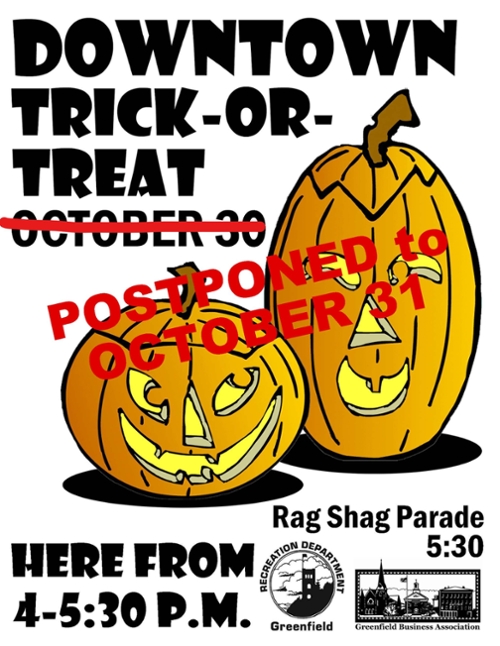 Due to weather forecasts for Saturday afternoon and evening the GBA and Greenfield Recreation Department have POSTPONED the Downtown Halloween events to Sunday, October 31st!
The event kicks-off with Trick-or-Treating from 4:00-5:30pm all around downtown. The Rag Shag Parade follows at 5:30 starting at the Mohawk Mall parking lot marching to the Energy Park for costume judging. Prizes are awarded in multiple categories. It's a frightfully fun-filled evening!
If you want to print an updated Downtown Trick-or-Treat flyer yourself to post, please use the file attached below.
WANT TO PARTICIPATE BUT NOT A DOWNTOWN BUSINESS? We are inviting Greenfield businesses outside of the downtown corridor to participate in the Trick-or-Treat event! Space will be available for a limited number of businesses to set-up a table or place for Trick-or-Treat donations at the Common. We need you to sign-up with us if you plan to do this as we need to plan the use of the space. First-come, first-served. Early registration is recommended (to help us figure out our space needs). We hope you'll join the fun! Sign-up with this online FORM.
Businesses usually pass-out candies, but some give out rocks, coupons, salty snacks?there are plenty of options!
Contact Rachel at: gba.4greenfield@gmail.com with questions or for more information!
Attached File: