Meet & Greet with Representative Susannah Whipps
Meet Greenfield's Future State Representative for Precincts 1, 2, 3, 4 and 9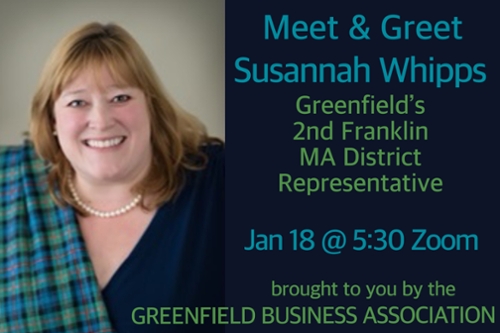 Join the Greenfield Business Association and Massachusetts 2nd Franklin District Representative Susannah Whipps for a Meet & Greet Zoom event on Tuesday, January 18 at 5:30pm.
The city of Greenfield is moving towards state representation as two districts, First Franklin and Second Franklin. Representative Whipp's Second Franklin District includes our Precincts 1, 2, 3, 4 and 9.
Growing up in Athol, Representative Whipps is no stranger to Greenfield–but this will be her first chance to represent us and our unique Greenfield needs. The GBA is hosting this event as an opportunity for Representative Whipps to meet and get to know Greenfield through you, her future constituents.
At this event, Representative Whipps is especially looking forward to the opportunity to meet members of the Greenfield business community and start a dialog about the city's business future. Bring your questions, ideas, and share what Greenfield means to you.
Register with this form to get an email with the Zoom link to the event by Monday, 1/17, 5:00pm. Free; open to all.
The GBA welcomes this opportunity to connect with Representative Whipps as she begins to work closely with our Greenfield community. We hope you'll attend!
What precinct are you? Check out the attached district map with updated precinct boundaries.
Attached File:
Posted: to GBA News on Mon, Jan 10, 2022
Updated: Tue, Jan 11, 2022